Outsourced CFO – New York (NY)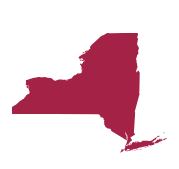 Many organizations in New York and across New York have accounting departments that are focused on managing routine tasks. This may include bookkeeping, AR/AP management, payroll inventory data review, and more. While important these traditional accounting functions do not provide the strategic leadership and insights that help support and guide the accounting team. Whether it's assistance expanding into new markets, raising capital, or undergoing rapid growth, it may be time to hire, or in some cases replace, a Chief Financial Officer (CFO) who can provide the insights, strategic direction, and experience needed.
A key concern is the difficulty in finding a qualified CFO. Not only can it be a difficult and long process, but often salary requirements exceed what many can afford. Beyond this, the onboarding process can be lengthy delaying impact. For this reason, organizations often turn to outsource to meet needs. A Virtual CFO can "plug-in" to your organization and quickly start offering essential insights and direction. These seasoned professionals have an immediate impact.
Virtual CFO Experience – New York
WhippleWood CPAs offer Virtual CFO services to companies in New York City and across New York.  Our team has significant experience helping companies implement systems, manage growth, and resolve capital needs. Since we work with dozens of companies, our virtual CFOs have significant experience assisting those in a variety of industries and situations. This allows us to deliver best practices based on real-world experience.
Virtual CFO Services – New York City (NY)
Below is a summary list of the virtual CFO services provided to companies and organizations, including:
Accounting Software Selection/Implementation
Accounting Staff Mentoring/Training
Budgeting & Forecasting
Bank Finance Meeting Preparation
Capital Asset Acquisition Evaluations
Cash Flow Forecasting/Optimization
Contract Review
Financial Improvement Plans
Key Metric Benchmarking/Trend Analysis
Lease v Buy Decisions
Treasury Management
Contact our New York Outsourced CFOs
WhippleWood CPAs offer Virtual CFO services to companies in New York City and across New York remotely from our Denver offices. For additional information on how we can assist you, complete the form to the right and a team member will follow up promptly.
About New York City (NY)
The New York City business community is a vibrant and dynamic ecosystem that plays a pivotal role in the economic, cultural, and social life of the city. With its diverse and multifaceted nature, the NYC business community is a testament to the city's entrepreneurial spirit and resilience.
At the heart of this bustling metropolis, you'll find a kaleidoscope of industries and sectors, ranging from finance and technology to fashion, media, and hospitality. Wall Street, located in the Financial District of Lower Manhattan, stands as a symbol of global finance, home to some of the world's largest financial institutions. This financial hub drives global markets, making NYC an international epicenter for finance and investment.
The technology sector in NYC has experienced significant growth in recent years, with numerous startups and tech giants establishing a presence in the city. Companies in Silicon Alley, as it's often referred to, are pioneering innovations in fields such as artificial intelligence, biotechnology, and cybersecurity. The city's tech ecosystem fosters creativity, collaboration, and the exchange of ideas.