Tell us a little about yourself!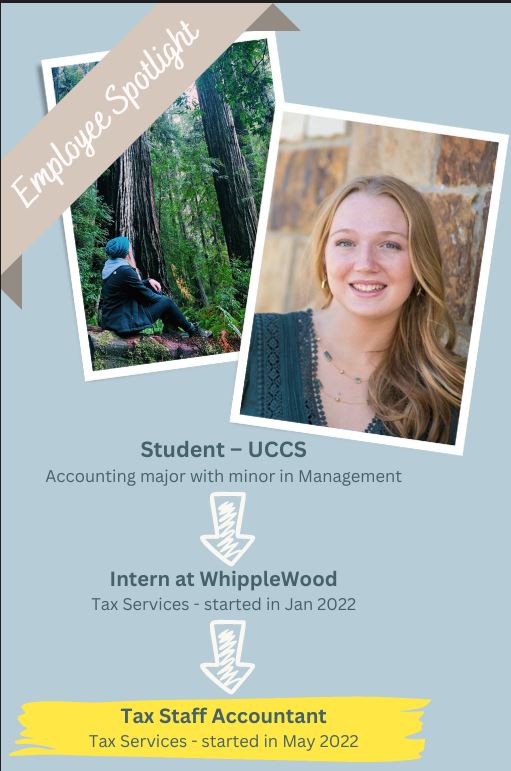 My name is Cassie Shetler. I'm pursuing a Master of Accounting from the University of Colorado Boulder. I received my undergraduate degree from the University of Colorado Colorado Springs with a major in accounting and a minor in management. On the weekends, I enjoy traveling, especially to National Parks. This year I've visited Rocky Mountain National Park, Zion National Park, Arches National Park, and more.
How does this compare with other internships you have had?
Compared to other internships WhippleWood without a doubt gave me more benefits, freedom, and responsibility. I was able to set my own hours. This was perfect for being a full-time student. I could still graduate on time, and if I needed an extra day off to study for an exam it was company-approved. In addition, WhippleWood catered in a meal for all employees once or twice a week. They rewarded employees with free car detailing after the busy season.
What was your favorite project and why?
My favorite project was assisting one of our largest clients. For this client, we prepared over thirty tax returns in 2021. This included individual returns, business returns, and partnership returns. In addition, I could attend an in-person meeting which was educational.
What has been your most valuable learning experience?
My most valuable learning experience was the software used by accounting and tax firms. Before this internship, I had very little experience in an accounting career. I had waitressed throughout college, however, that was all. During my internship, I became comfortable with CCH Axcess, Fixed Asset, Tax Planning, and Quickbooks.
How would you describe WhippleWood culture with your exposure and experience?
The culture is amazing. WhippleWood does a lot to ensure their employees enjoy their time with the company. For example, every Thursday, the tax team goes to lunch together. As an intern, it meant a lot to be invited each time. In addition, I could always ask for help without feeling bothered. All the employees at WhippleWood are happy to sit in my office to explain the system or technical tax law.
What was your favorite busy season activity?
My favorite busy season activity was the annual stress relief event. Each year, WhippleWood pays their staff to spend an afternoon participating in a stress reliving activity with colleagues. This year, we did Archery Dodgeball.
What was one thing you learned on the job during your internship that was not taught in the classroom?
I learned so much during this internship that could not be taught in the classroom. I saw real examples of correcting clients' errors in bookkeeping, which happens much more than you would imagine. In addition, I learned many projects are more about teamwork than knowledge. If I was ever confused about how to report income on a tax return, my colleagues were more than available and ready to help.
What is the best thing about public accounting?
My favorite thing about public accounting is the hours; I know, sounds crazy. However, I don't mind giving extra hours between February to April and September to October to allow for fewer hours in the remaining months. During the summers with WhippleWood, we have half-day Fridays. And during the holidays, we have lots of extra events and flexibility.
What advice would you give to someone new considering to intern at WhippleWood?
The advice I would give to someone considering interning at WhippleWood is to accept the internship offer. Interning with WhippleWood changed my life forever. WhippleWood has become a community for me. I've gained relationships I'll value for the remainder of my life, and I've gained knowledge I'll use for the remainder of my career.
What surprised you most about your internship experience?
What surprised me the most regarding my internship experience was how much I learned and how much responsibility I was given. During my internship, I assisted with the preparation of 1099's, 1040s, 1120s, 1041s, and 709s. I didn't even know about all these return types before my internship. In addition, WhippleWood trusted me with actual client responsibilities. I was emailing clients and preparing their tax returns. I wasn't simply cleaning the building or ordering coffee for the office.
What's next?
I graduated in May, and I'm thrilled to begin a full-time position with WhippleWood. In addition, I'm pursuing my Masters of Accounting as well as studying for the CPA Exam. My first exam date is in November.
Advice during the internship:
My advice during the internship is to ask questions and be present as much as possible. The more you're in the office, the more you'll gain from experience. I was fortunate enough to sit in rooms with partners and observe how they talked with clients.
Pam Fisher
Accounting Manager
"No two days are ever the same at WhippleWood. Our work is always changing based on our clients needs and goals. We all support each other which helps us to best serve our clients, but it also creates a positive work environment. Management even rewards our hard work with fun events throughout the year!"
Qiang Guo
Tax Accountant
"The work culture at WhippleWood is friendly and collaborative. Whenever you face a problem, there are people on your team that want to help you solve the issue for your client, but also to see you succeed in your role."
Steve Grimes
Firm Administrator
I enjoy the firm's relaxed and empowering environment. It's not like other CPA firms. I have the freedom here to make decisions in a fun environment full of good people.
Amy Eden
Senior Firm Coordinator
Exciting and fun. No two days are ever the same and even though we're always busy, it's fun and exciting to tackle new projects and get to work with different people on new challenges.
Kacey Hertel, CPA
Senior Accountant
The people. We have a great group of individuals working here.
Adam C.
2021 Accounting Intern
They are consistently ranked one of the top accounting firms to work for. I clicked with a lot of the people that work with WW, lots of friendly people. I was provided opportunities to move around in different accounting fields (Tax, CAS, audit) that I felt was helpful in ultimately determining the direction I wanted to go after I earned my degree.