American Lung Association Fight for Air Climb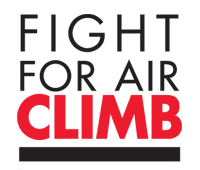 Please join in supporting WhippleWood CPAs in the Fight for Air Climb! We have put together a team that will climb the stairs of the Republic building in downtown Denver this Saturday. We need your help in raising funds for this incredible cause.
The Fight for Air Climb is one of the American Lung Association's signature fundraising events. With events in more than 65 cities, participants young and old climb to raise funds in support of the mission of the American Lung Association: to save lives by improving lung health and preventing lung disease.
These unique events are hosted in prominent skyscrapers, stadiums or arenas and challenge participants as they walk, run or race up hundreds of steps. Sometimes called a "vertical road race", teams and individual participants can use the event as a fitness target, as a race or as a great way to be active and meet new friends while raising money for much needed research and programs.
Last year alone, Fight for Air Climbs raised more than $7 million to help provide lifesaving education, research and advocacy so we can beat lung disease and soon find a cure.
To donate toward the cause and help our WhippleWood team members reach their goal of raising $100 each, please click here.
Thanks for your support!
The WhippleWood Team